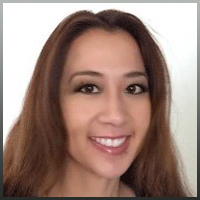 Dr. Orapin Horst, Endodontist is a specialist member of the American Association of Endodontists (AAE) and a board eligible member of the American Board of Endodontics (ABE).
Dr. Horst began her career in dentistry in 1997 with several years of experience in teaching, research, and clinical practices including private practices, faculty practices, hospital dentistry, and dentistry/endodontic treatment for special need patients. She served as the president of Northern California Academy of Endodontics in 2015 and has served on the Scientific Advisory Board for Journal of Endodontics.
Dr. Horst completed comprehensive dental/endodontic education and advance trainings from both US and Thailand universities, including University of Washington, Chulalongkorn University, and Mahidol University. She also obtained her Doctor of Philosphy (PhD) from University of Washington and has focused her studies to gain deep understanding and insight into biology, immunology, neuro-physiology, microbiology, and development of teeth and surrounding oral tissues. She joined University of Washington as an Affiliate Assistant Professor from 2009 to 2013 and University of California, San Francisco as an Assistant Clinical Professor from 2011 to 2015.
Dr. Horst stays at the forefront of dental and endodontic technological innovations. She has authored a book and multiple key articles in dentistry, which were featured as a cover story for Journal of Dental Research in 2009 and Journal of the American Dental Association in 2015. She is also an ad hoc reviewer for many journals including Journal of Dental Research, Journal of Endodontics, International Endodontic Journal, Archives of Oral Biology, Acta Biomaterialia, PLoS One, and International Journal of Medicine and Medical Sciences. She was awarded grants from National Institute of Health (NIH)/National Institute of Dental and Craniofacial Research for studies to develop new treatment protocols and technologies in dentistry.
Through her journey, Dr. Horst has accumulated extensive trainings and experiences to provide the highest quality patient care using cutting edge technologies for both clinical diagnosis and treatment. After work, Dr. Horst enjoys yoga, swimming, athletic body workout, and cooking. She has invented many delicious recipes for healthy eating.